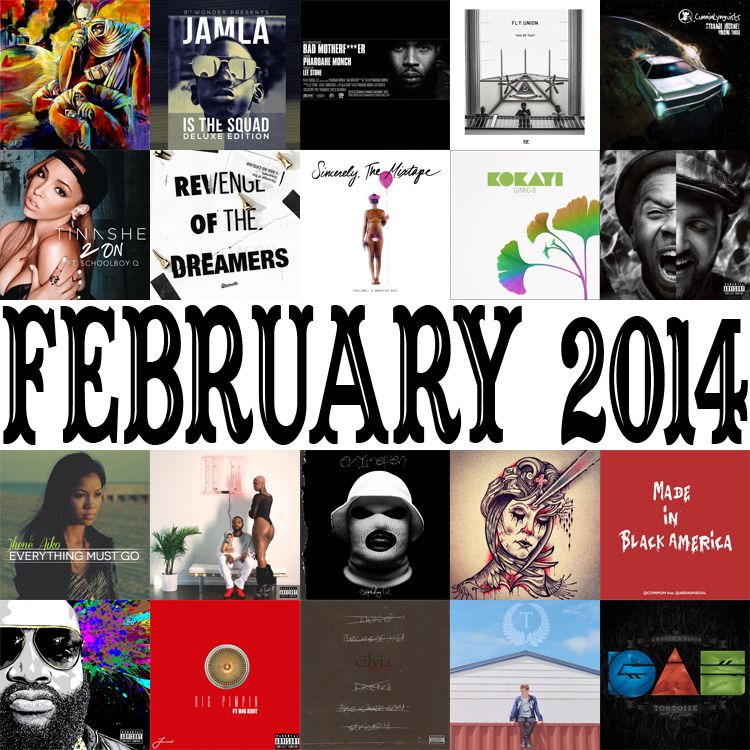 STREAM/DOWNLOAD:
Kannon Presents - Best of February 2014
01. EarthGang ft. Trinidad James - Terminus
02. 9th Wonder ft. Talib Kweli, Elzhi & Phonte - No Competition
03. Pharoahe Monch - Bad Motherfucker
04. Fly.Union - This Or That
05. CunninLynguists ft. Zumbi - In The City
06. Tinashe ft. Schoolboy Q - 2 On
07. Bas - Ceelo With The G's
08. Collins - Stupid Shit
09. Kokayi - Ginko-B
10. Dag Savage ft. Fashawn, Co$$ & Tiombe Lockhart - Cali Dreamin'
11. Jhene Aiko - Everything Must Go (New Version)
12. Rome Fortune - Tropical
13. Schoolboy Q ft. Raekwon - Blind Threats
14. Weerd Science - Gangsta Dreamz
15. Common ft. Ab-Soul - Made In Black America
16. Rick Ross ft. French Montana & Diddy - Nobody
17. June ft. Big K.R.I.T. - Big Pimpin
18. Isaiah Rashad - R.I.P. Kevin Miller
19. Thomston - Midas
20. The Grouch & Eligh ft. Blu - Akfam
New music. Mostly Hip Hop. Couple R&B joints. One alternative-y type joint from Thomston. I dont expect everyone to like it. But I fuxwitit. Get that Dag Savage album. The Isaiah Rashad album is dope as shit too. The Grouch & Eligh just put out a three disc album (one G&E disc, one Grouch solo, one Eligh solo). I wanted to put a G&E song called "HELLA FRESH" on here, but it had a Kreayshawn verse on it that I couldnt justify spreading. But Eligh kills it. So
youtube
it if you want. Also, if you dig Kokayi, he's dropping a song a day for all of 2014 on his
soundcloud
. So check that. If you like laid back, chill shit, the Rome Fortune tape is dope. New Fly.Union album "Small Victories" coming 3/4. Rick Ross album "Mastermind" coming 3/4. CunninLynguists album "Strange Journey Vol. 3" coming 4/1.