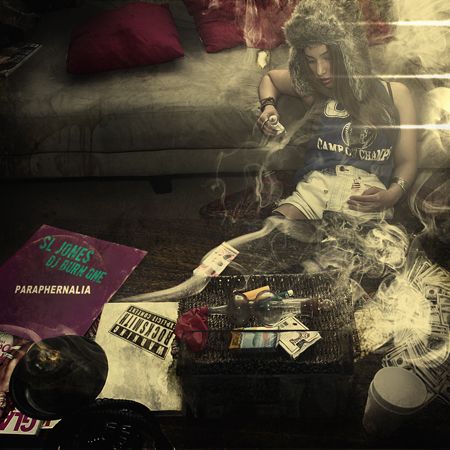 I was out of town on buisness all of last week so, I'm once again gonna be playing catch up through out the week...but first thing first.... SL Jones and DJ Burn One put out an awesome joint project that you all need to hear. Be sure to grab this shit...it's free.
Earlier this year, SL Jones and DJ Burn One made plans to put out a six-song EP. A few months, and countless late-night sessions at DJ Burn One's Five Points studio, later, the Little Rock rapper and Atlanta producer emerged with a 12-track, full-length effort that both agree is their strongest, most cohesive work-to-date. "Before we started recording," recalls SL, "we sat down and talked about the direction of the music - we really established a vibe. We didn't want Paraphernalia to sound like a bunch of thrown together songs; we wanted to give listeners an experience."

And so, in many ways, Paraphernalia is about bucking industry trends, about two artists getting together to make a raw, unapologetic collection of music that reflects the music that they enjoy. Part of that process, they say, was working to make sure that, from start to finish, Paraphernalia was a collaborative effort. "This is the first time I've really been produced as an artist," says SL, noting that he's largely pulled from a variety of producers with previous mixtapes. "Instead of email and beat CD's, we got in there - Burn, me, and his band, iNDEED - and created everything from scratch."

And while that collaborative process has paid dividends, Jones also cites a level of personal and artistic progression that has allowed this new tape to really become something special. "For me, lyrically, I've always been able to maneuver on different styles of production, but my presence on the track is really improving," says SL. "Rather than just trying to kill every beat, I'm matching my presence to the feel of the record - it's allowed me to get my point across, which is important now more than ever."
Download:
Bandcamp
|
Sharebeast